Saturday, my beloved Nebraska Cornhuskers took on the Virginia Tech Hokies in a highly anticipated game that was supposed to be the first real test for the Huskers (and their new coaching staff) this season.
Nebraska lost, 35-30. At times, they didn't look very good at all. As a fan, it was a disappointing night.
But as a dad, it was freakin' AWESOME.
My parents had tickets to the game, and as it turned out they were going to be out of town for the weekend. Sweetie had access to a ticket with her parents, so that meant I was able to take Kiddo with me. Section 16-B1, Row 85. Waaaaaaaaaaaaaay up in South Stadium.
It's amazing how being with a 4 year-old can help mellow out even the most rabid fan (me).
Our day started well before kickoff, though. We left the house about 4:15, getting to our usual parking spot by 4:30. On our way to the stadium, we stopped by the HuskerPedia tailgate.
HuskerPedia
is probably the best online source in existence for Husker related news and bulletin board chat. I've been posting there for a few years now--one of the perks of being a member is that you can stop by the tailgate tent before each game and enjoy some great food, great beer and great company. Saturday, the great company included the
Husker Elvises
(I had my picture taken with them, but haven't gotten a copy of it yet) and Joe Orduna, who played for the 1970 Husker National Championship team. Joe was kind enough to sign Kiddo's hat, and he and I spent about 5 minutes talking about family, football, and just life in general. Good guy.
After having our fill of food (and an adult beverage), we made our way to the Husker Nation Pavillion, which is located right next to the stadium and has live music, facepainting, balloons, games for kids, and televised football on a gigantic screen. Kiddo got his face duly painted, and had someone make a balloon sword for him.
After finding our seats in the stadium, Kiddo just soaked in the atmosphere. He clapped along with the band's pregame show, delighting the fans around us by singing along to
There Is No Place Like Nebraska
. He was enraptured by the spectacle of the Tunnel Walk, even telling me afterward, "Daddy, during the Tunnel Walk I almost had tears in my eyes because it was just SO COOL!" and by kickoff, he was yelling right along with the crowd.
Until the second play of the game. Which was when he informed me that he REALLY had to go to the bathroom RIGHT NOW.
Remember, we were in row 85...AND right in the middle of our row. I apologetically excused myself past the 8 people to my left, Kiddo and I walked down 20 rows worth of stairs until we got to the exit, then down a series of LONG ramps until we finally were at street level.
I found the men's room, took Kiddo in, waited patiently while trying to discern what the crowd noise above me meant (turns out VT had scored on a safety), had Kiddo wash his hands, then got ready to head back up to our seats.
It was then that Kiddo informed me that he was REALLY hungry.
No problem. We were down by the concession stands...we'd just stop real quick and grab something....
....hmmmm....funny. Where's my money?
I slapped my forehead as I realized Sweetie had it all.
For some perspective, I was in the south endzone. Sweetie was on the west side of the field, right on the north 10 yard line.
And apparently Kiddo was about to melt into a pile of nothingness without something to eat NOW.
SO...we went down another flight of stairs to get to field level, went around the corner to get into West Stadium, walked in front of the VT visitor section, and down the entire length of the field until we got to the north 10 yard line. Then up 17 rows...until finally Kiddo saw his mommy, grandma and grandpa.
Retrieving the money, we kept going up the stairs until we were at the concourse level in West Stadium, stopped by a stand for a couple of hot dogs and a big ol' lemonade, back down to field level, back to South Stadium, up the series of ramps, out to the stands, up 20 rows of stairs, over 8 people, and back to our seats.
Phew.
We watched the rest of the first half while enjoying our dogs and sharing our drink. After our first touchdown, Kiddo let go of the 3 red balloons we had been holding on to, and we marveled at the thousands of balloons that floated away (a truly COOL tradition, letting the balloons go after the first score).
At halftime, we had promised grandpa that we'd come down to visit, so we made the trek back to their West Stadium seats. by this time it was almost 9:00, and Kiddo, while enjoying the game, had started to get tired and ask when it was going to be done. In an attempt to hold him off, Sweetie suggested maybe we should get him some ice cream.
So we did...after standing in line for 20 minutes. Then came the trek back to North Stadium, Row 85. I was amazed the kid was still standing after all the walking he did.
Speaking of standing, we stood for the majority of the game, which was something I was ready for, but hadn't considered when bringing Kiddo with me. But he was a trooper, standing on the bench in front of us and watching the game through his binoculars.
The 20-something year old guy in front of us taught Kiddo how to cross his arms to "throw the bones" for the defense, and Kiddo led our section in the "Goooooooooooo Biiiiiiiiiiiiiiiiiiiiiiiiiiiiiiiiiig Reddddddddddddddddddddddddddddd...GO BIG RED!" cheer, which the fans around us got a BIG kick out of. Kiddo almost became our section's mascot--whenever the Huskers scored, everyone around us gave him high fives--and he just ate it all up.
Finally, when the game ended, I had the opportunity to teach him a little about sportsmanship. He asked why all the players were kneeling in the middle of the field, so I explained that they were saying a prayer together, and that even though they were on opposite teams, they could still say a prayer to God together. As the players finished praying, the Virginia Tech section started chanting--when Kiddo asked why, I said that they were happy that they won, just like we'd be happy if we won, and that it was okay to be happy for them.
"In fact, you know what?" I asked him. "Something that Husker fans do that I think is REALLY cool is this--whether we win or lose, after the game we clap for the other team when they leave the field, and tell them that they did a good job." So as we made our way to the stairs, we clapped for Virginia Tech as the players ran off.
Even with all the walking, even with the standing in line, even with the Huskers losing, even with the completely pointless unsportsmanlike conduct penalty against Bo Pelini in the 4th quarter, I had an incredible night.
Because I was with my son.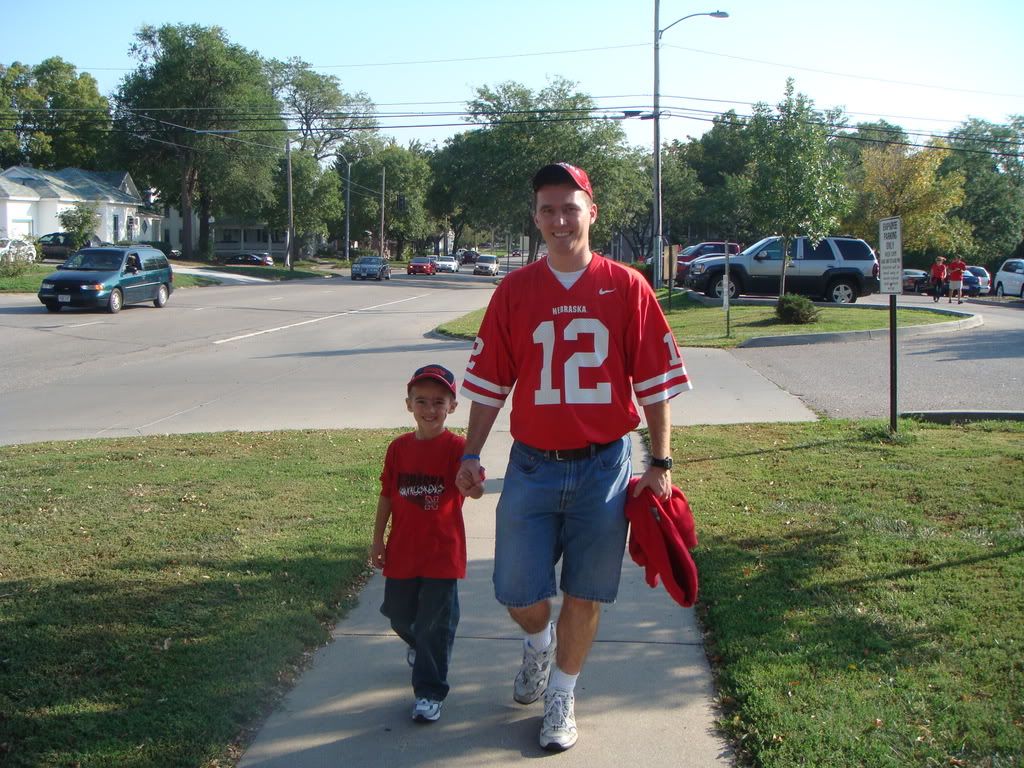 On our way from the parking lot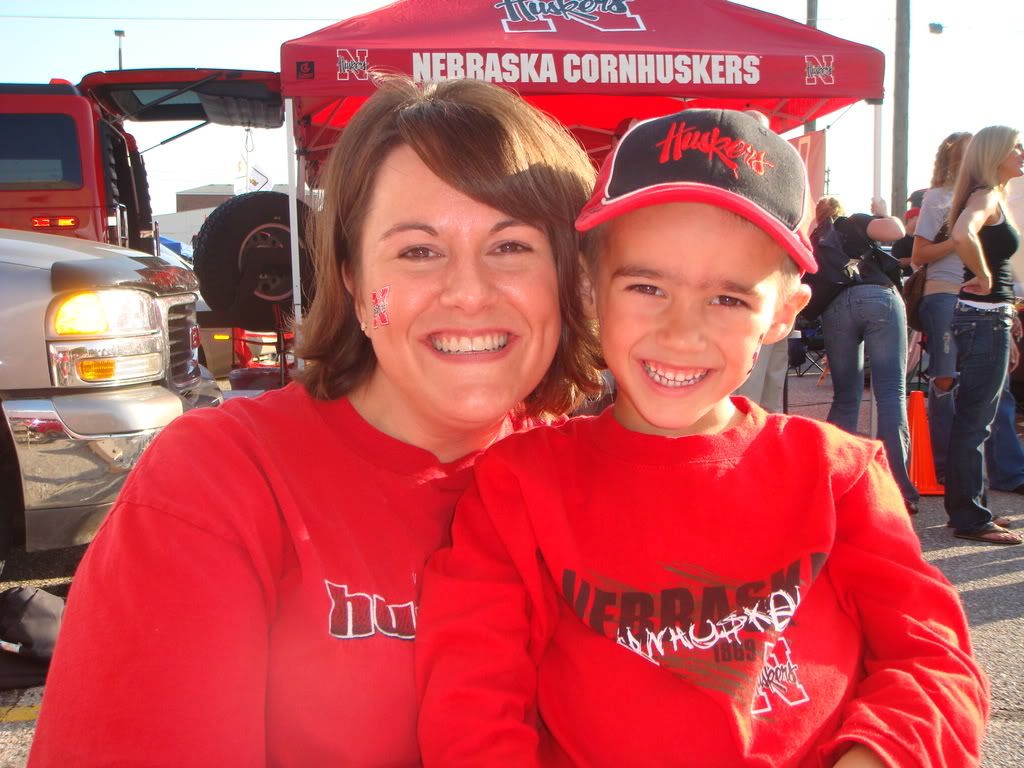 Kiddo and Sweetie at the HuskerPedia tailgate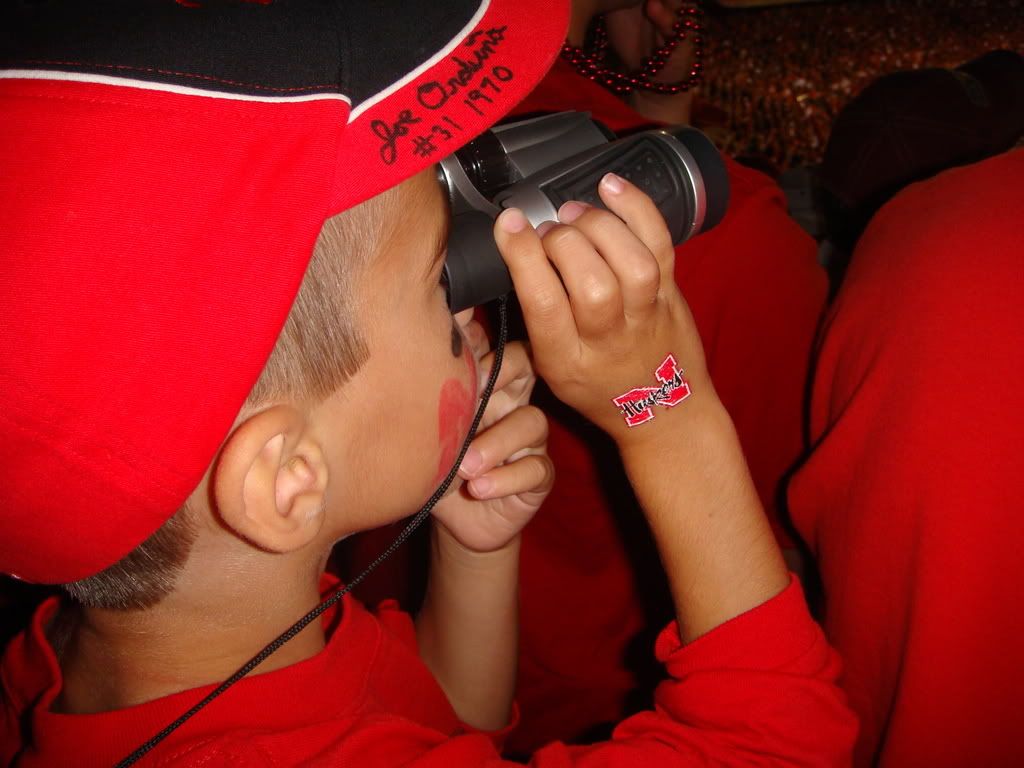 Watching the game...check out Joe Orduna's autograph on his hat!
Cheering from Row 85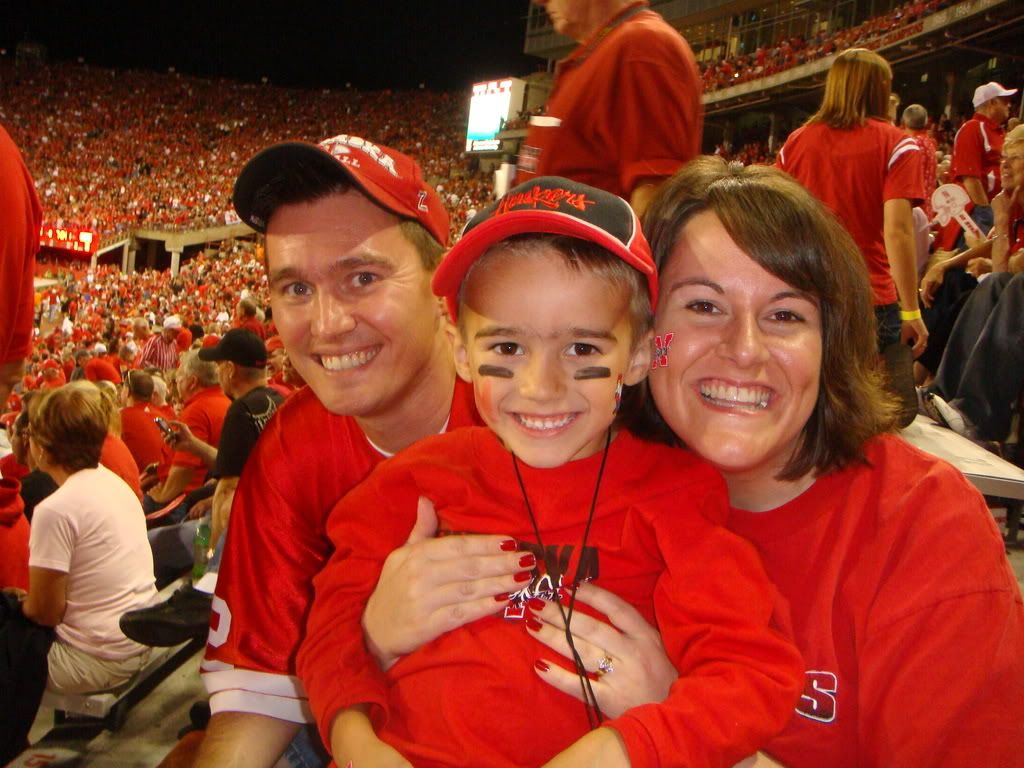 In Mommy's seats at halftime
Kiddo takes in the Tunnel Walk
Gooooooooooooooooo Biiiiiiiiiiiiiiiiiiiiiiiiiiiiiiiiiiiiiig Redddddddddddddddddddd...GO BIG RED!
LH